M.G. Pratap, B. Madhusudhana Rao, Ch. Balakrishna, Dr A. Devivaraprasad Reddy
Introduction
Shrimp is the single largest seafood commodity by value, accounting for 17% of all internationally traded fishery products. But diseases, particularly viral infections, have a significant impact on shrimp production.Infectious myonecrosis virus(IMNV) is a novel shrimp virus that mainly affects cultured Litopenaeus vannamei (L. vannamei, Pacific white shrimp) in countries like north-eastern Brazil, East Java Island as well as other South-East Asian countries.
At earlier stages, the disease caused by IMNV is mentioned as Idiopathic Myonecrosis, later renamed as Infectious Myonecrosis. Unlike other shrimp viruses such as WSSV,YHV,TSV,etc,the IMNV disease progression is slow; however, due to the muscle's necrotic appearance, themarket value getshindered. Moreover, stress and some environmental factors (sudden changes in temperature or salinity)exaggerate the disease process and increase mortality. During 2005, it was listed under OIE shellfish diseases, due to its cumulative mortality throughout the culture (upto 80%) and its economic losses.
Genome and Geographical distribution
The genome of IMNV consists of unsegmented dsRNA (double-stranded Ribonucleic Acid) with 7,560bp length, having an icosahedral symmetry with 40 nm in diameter. This dsRNA genome is arranged as 5 to 6 concentric rings inside the capsid coating, two overlapping ORFs of the genome codes for different proteins. It was identified in 2003. To date, there are four complete genome sequences and nine partially sequences of IMNV strains available in Genbank. Brazilian and Indonesian strains were reported in 2006 and 2007, respectively. The Indonesian strain of IMNV showed shows 99.6% similarity with Brazilian strain. According to the International Committee on Taxonomy of Viruses (ICTV), this virus is assigned under the family Totiviridae, genus Giardiavirus.IMNV was first reported in Brazil; in 2002, during 2006, it was reported from Indonesia. Recently, the incident of IMNV in Indian (2016) and Malaysian (2018) farmed P. vannamei has been recorded. This virus has caused severe losses to the shrimp industry in the above four nations.
Host range
All the life stages of shrimps, including postlarvae,juveniles, and adults, were susceptible to IMNV infection, but mortality was observed in juveniles and adults with a cooked appearance. The transmission of the disease includes both horizontal and vertical. The host range of IMNV includesL. vannamei, L. stylirostris,Penaeus subtilis,P. esculentus,P. merguiensis,P. monodon, and Artemiafranciscana. While brine shrimp, bivalves, and polychaete worms may act as vectors or carriers. The target organs for IMNV infection include striated muscles, connective tissues, hemocytes, and the lymphoid organ tubule parenchyma cells.
Clinical signs and Histopathology
The clinical signs of IMNV include loss of appetite, lethargy, necrotic areas in the skeletal muscle, especially in distal abdominal segments, and tail fan.Muscles and appendices exhibit a reddish coloration, giving the appearance of cooked shrimps (opaque), and the severely infected shrimps become moribund. During the acute phase of infection, the shrimps display various levels of coagulative muscle necrosis (focal to extensive white lesions), gradually progress to liquefactive necrosis leads to a chronic phase characterized by liquefying of the necrotic muscle.Surviving shrimp progress to a chronic stage with prolonged low-level mortalities.The range of mortalities lies between 40 and 70%, which can be suddenly elevated and remains for multiple days. Mode of transmissionis with both horizontal (especially cannibalism) and vertical.
The primary site for IMNV infection in skeletal muscle, but it can also infect gills and lymphoid.The histopathological characters of IMNV infection reveal the presence of lymphoid organ spheroid, which is 3 to 4 times larger than the normal lymphoid organ tubules, basophilic inclusion bodies in the myocyte, hemocyte, and connective tissues. Coagulative striated muscle necrosis, edema, hemocyte in filtration,fibrosis. The co-infection of IMNV with WSSV (White spot syndrome virus), MrNV (Macrobrachium rosenbergii Nodavirus), and Vibrio harveyi has been reported.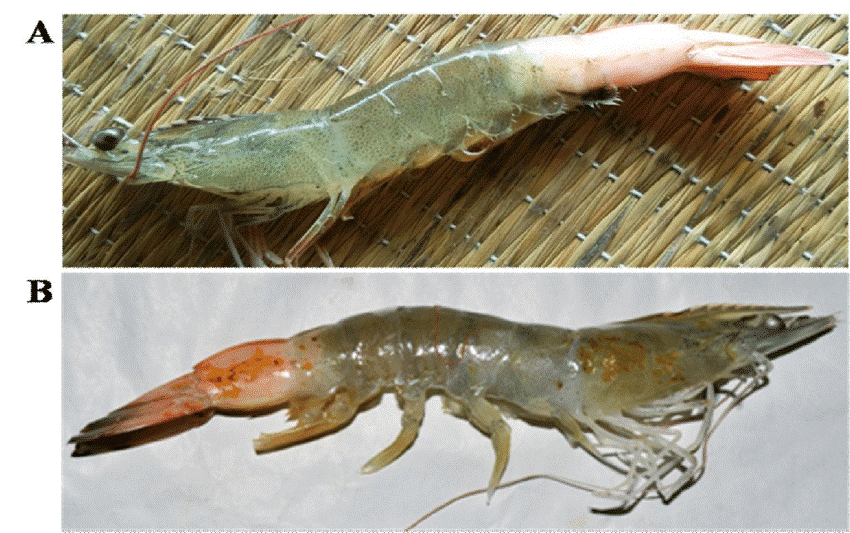 Diagnosis and control measures
Early and effective detection of IMNV has a vital role in managing catastrophic losses.The preliminary diagnosis is based on clinical signs and for confirmatory diagnosis; Histological, Antibody, and Nucleic acid-based diagnostics like LAMP and PCRs are available. On-farm rapid diagnostic assays such as strip test (lateral flow immunochromatographic assay) are also available.
Nevertheless, IMNV being a virus; no treatment is available. The control and prevention measures of IMNV infection include following Best Management Practices (BMPs) such as disinfection of egg and larvae, use of SPF broodstock, screening the Post-Larvae (PLs) against IMNV to combat with vertical transmission, use of probiotics, biosecurity measures, emergency harvest, and proper quarantine measure to stop the horizontal spread of disease. As part of immuno-prophylaxis, the application of LPS, Chitosan, and β1,3-glucans will help in activating proPhenol Oxidase.
Conclusion:
A range of viral infections mainly affects L. vannamei shrimp farming in India.The majority of the viral diseases were handled through vaccination in higher animals, unlike vertebrates shrimps which have poor or lack of immune memory, so it is challenging to develop treatment protocols or vaccination. A better understanding of emerging viral pathogens like IMNV, the development of rapid diagnostic facilities, following BMPs, and prophylactic protocols to stop the spread of disease will lead to the sustainability of the shrimp industry in India.
(  M.G. Pratap, B. Madhusudhana Rao and Ch. Balakrishna are working  in ICAR –CIFE, Maharashtra, and  Dr. A. Devivaraprasad Reddy is the scientist in Dr.YSR Horticultural University, Andhra Pradesh. References used for this article can be provided on request. Views expressed are their personal.)
(Please share your experience, interesting news articles and case studies at aquapostnews@gmail.com)