R. Rajeshkannan, V. Alamelu, V. Vijayarahavan and S. Vimaladevi
Introduction
Protein synthesis inhibitors are a substance that stops or slows the proliferation of cells by disrupting the processes that lead directly to the generation of new proteins. The substances take advantage of the major differences between prokaryotic and eukaryotic ribosome structures which differ in their size, sequence and the ratio of protein to RNA. The differences in structure allow some antibiotics to kill bacteria by inhibiting their ribosomes, while leaving human ribosomes unaffected.
Translation in prokaryotes involves the assembly of the components of the translation system which are: the two ribosomal subunits (the large 50S & small 30S subunits), the mRNA to be translated, the first aminoacyl tRNA, Guanosine Tri Phosphate (GTP) (as a source of energy), and three initiation factors that help the assembly of the initiation complex. The ribosome has three sites: the A site, the P site, and the E site (not shown in). The A site is the point of entry for the aminoacyl tRNA. The P site is where the peptidyl tRNA is formed in the ribosome. The E site which is the exit site of the uncharged tRNA after it gives its amino acid to the growing peptide chain.
In general, protein synthesis inhibitors work at different stages of prokaryotic mRNA translation into proteins like initiation, elongation (including aminoacyl tRNA entry, proofreading, peptidyl transfer, and ribosomal translocation), and termination.
Protein synthesis
Attachment of mRNA to 30S subunit
50S binds to 30S to constitute 70S
This unit moves along mRNA so that successive codons of mRNA pass along ribosome from the acceptor site to peptidyl site
A tRNA with its existing aminoacid chain is already attached at the P-site of the complex by complementary codon:anticodon pairing
The incoming tRNA with a new aminoacid binds to the acceptor site by complementary base pairing
Peptide chain on the tRNA attached to the P-site is then transferred to the tRNA linked to A site. This process is called transpeptidation
tRNA which has lost its peptide chain is ejected out from P-site
tRNA at the A-site is translocated to P-site
A freed A-site is now ready to receive new
Fig. 1 Schematic Diagram of Protein Synthesis
(Source: Biology. https://bio.libretexts.org/@go/page/8709)
Protein synthesis inhibitors and its uses
1. Tetracyclines
Tetracyclines are broad spectrum antibiotics with similar antimicrobial features, but they differ somewhat from one another in terms of their spectrum and pharmacokinetic disposition. There are three naturally occurring tetracyclines including oxytetracycline, chlorotetracycline and dimethyl chlorotetracycline, and several other that are derived semi-synthetically include tetracycline, rolitetracycline, methacycline, minocycline, doxycycline etc.
Based on elimination time, further classified into short acting (tetracycline, oxytetracycline, chlorotetracycline), intermediate acting (dimethyl chlorotetracycline, methacycline), and long acting (minocycline, doxycycline)
All of the tetracycline derivatives are crystalline, yellowish, amphoteric substances that, in aqueous solution, form salts with both acids and bases. Tetracyclines are characteristically fluorescing when exposed to UV light.
Mode of Action
The exact site involved in the antimicrobial activity of tetracyclines has not been clear, but these antibiotics bind reversibly to bacterial 30S ribosomes and inhibit protein synthesis, perhaps by several mechanisms. The binding of aminoacyl-tRNA to the acceptor site on the mRNA-ribosome complex seems to be impaired.
Tetracyclines enter micro-organisms in part by diffusion and in part by energy dependent, carrier mediated system that is responsible for the high levels achieved in susceptible bacteria. Tetracyclines are more effective against multiplying microorganisms and tend to be more active at pH 6-6.5
Uses
Oxytetracycline will treat gram-positive (such as Streptococcus) and some gram-negative bacteria (such as some Vibrio species) found in aquarium/pond environments. Maladies include; Body Slime & Cloudy Eyes (its best use), Marine ulcer disease, cold water disease, bacterial hemorrhagic septicemia or redness in the body. Also used to treat open sores or loss of scales and mouth fungus.
Dosage
250- 500 mg per 20 gallons every 48 hours (24 hours for severe problems) with a 50% water change before each treatment. This antibiotic is best used by mixing with food, especially if pH is above 8.0.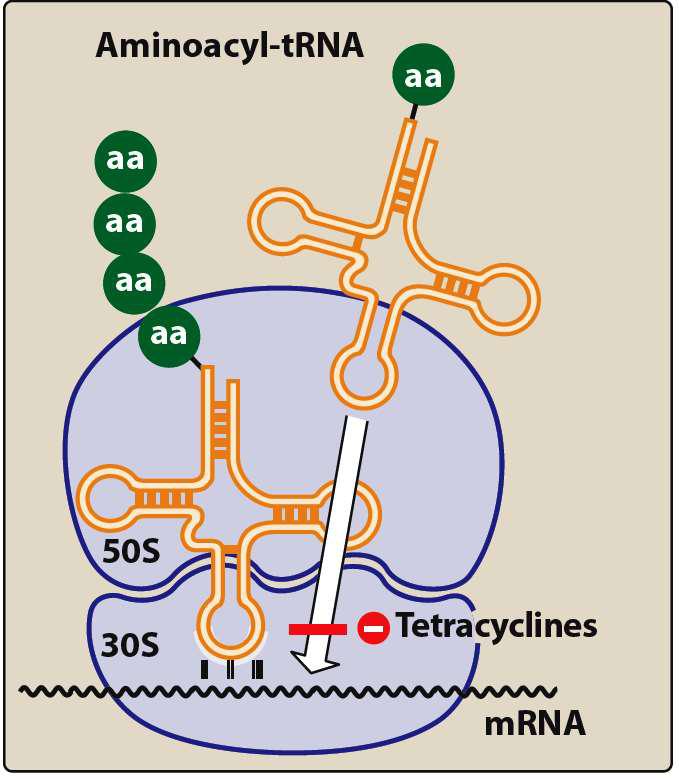 Fig. 2 Mechanism of Tetracycline
(Source: https://player.slideplayer.
com/20/6230353/data/images/img20.jpg)
Contraindications:
Best avoid using concurrently with other antibiotics or chemical treatments, although use in a bath with Methylene Blue.
Do not use for fish suffering from ammonia/nitrite poisoning or with fish with low red blood cell count (anemia) such as suffering from an acute gill infestation of Velvet, Flukes or similar parasites that attacks the gills and thus renders a fish anemic.
As with all Tetracycline products, less effective in higher calcium environments.
Do not use with any iron oxide containing products.
2. Macrolides
Macrolides consists of macrocylcic lactone ring (ususally 14-16 atoms) attached to one or more deoxy sugars. (E.g.erythromycin, tylosin, roxithromycine, clarithromycin, azithromycin etc.). Macrolides are bacteriostatic drugs. Macrolides are intermediate-spectrum antimicrobials, active mainly against Gram-positive bacteria. The antibacterial spectrum of macrolides is slightly wider than that of Penicillin; thus, they are common substitutes for Penicillin. Unlike Penicillin, Macrolides have been shown to be effective against mycoplasma, mycobacteria, Chlamydia and rickettsias.
Mode of Action
Polypeptide export tunnel is the target for macrolide antibiotics. They reversibly bind to 50S ribosome, block the tunnel and thereby blocking the polypeptide export. They also prevent the translocation of peptidyl tRNA to P site and inhibit protein synthesis. Additionally act as a bacteriostatic at therapeutic concentration. The source is Streptomyces erythreus.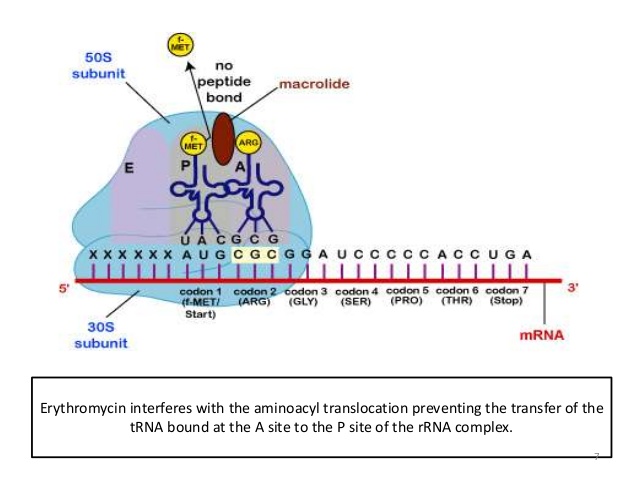 Fig. 3 Mechanism of Macrolides
(Source: https://www.slideshare.net/MDCrules/erythromycin-structure-and-production)mg20.jpg)
Uses
The majority of bacterial pathogens of fish are Gramnegative; the use of macrolides is limited and specific. Only three are used to any extent in aquaculture: erythromycin, spiramycin and josamycin. Erythromycin has been used in the treatment of Bacterial Kidney Disease caused by Renibacterium salmoninarum and streptococcosis in yellow tail.
3. Chloramphenicol
It was initially obtained from Streptomyces venezuelae in 1947. It was later chemically synthesized and commercial products now available are only synthetic products. It is the first antibiotic to be chemically synthesized. It is a derivative of dichloro acetic acid and contain a nitrobenzene moiety. Slightly soluble in water, soluble in most organic solvents.
Mode of Action
It is a bacteriostatic drug that interferes with the protein synthesis, irreversible inhibitor of 50S ribosome, inhibits the peptidyl transferase enzyme thereby preventing the aminoacid transfer to growing polypeptide chains and subsequent protein formation responsible for forming peptide bonds between the aminoacids of elongating peptide chain is also prevented.
It is a broad spectrum antibiotic, inhibits gram-positive, gram-negative, aerobes, rickettsia and chlamydia, mycoplasma. Mycoplasma and Nocardia develop resistance quickly against chloramphenicol.
Use
It has been used as a prophylactic agent against carp dropsy (caused by Aerobacterium liquefaciens). It has also been used in the treatment of trout ulcer disease (caused by Haemophilus piscium) and furunculosis (caused by A. salmonicida).
Fig. 4 Mechanism of Chloramphenicol
(Source: https://player.slideplayer.com/20/6230353/data/images/img3.jpg)
4. Aminoglycosides
The group of natural and semi-synthetic antibiotics that isactive against gram-negative organisms. Aminoglycosides means amino sugar joined by a glycosidic linkage. The aminoglycosides, including gentamicin, neomycin, kanamycin, and amikacin are very effective against gram-negative bacteria infections when administered by injection. Unfortunately, this group has also been shown to cause kidney damage in fish when administered by this technique.
They are highly active in alkaline medium due to bacterial destruction. They possess poor bioavailability and are readily ionize, hence unable to cross the barriers even in inflammation. They are hydrophilic, available as water soluble sulphate salts, stable in solution.
Mode of Action
Susceptible gram-negative organisms allow aminoglycosides to diffuse through porin channels in their outer membranes.The antibiotic then binds to the 30S ribosomal subunit prior to ribosome formation.There, it interferes with assembly of the functional ribosomal apparatus and/or can cause the 30S subunit of the completed ribosome to misread the genetic code.
Use
Aminoglycosides are relatively broad spectrum and active against bacteria, mycoplasma and mycobacteria. They are bactericidal with activity against gram negative aerobes and newer groups especially against Pseudomonas, but not active against anaerobes. As a group, these antibiotics are not considered effective when used in oral or bath treatments. A couple of exceptions may be kanamycin and neomycin, both of which may be effective against external infections if used in bath treatments. In addition, kanamycin is also believed to be effective when mixed with feed to treat gastrointestinal bacterial infections in fishes.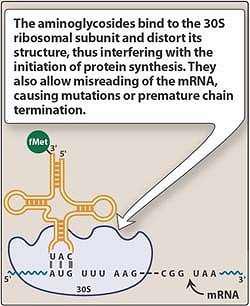 Fig. 5 Mechanism of Aminoglycosides
(Source: https://player.slideplayer.
com/20/6230353/data/images/img16.jpg)
5. Linezolid
Although its mechanism of action is not fully understood, linezolid appears to work on the first step of protein synthesis, initiation, unlike most other protein synthesis inhibitors, which inhibit elongation.
Mode of Action
It does so by preventing the formation of the initiation complex, composed of the 30S and 50S subunits of the ribosome, tRNA, and mRNA. Linezolid binds to a site on the 50S subunit near the interface with the 30S subunit close to the binding sites of chloramphenicol. Thereby linezolid inhibits bacterial protein synthesis by inhibiting the formation of the 70S initiation complex.
Fig. 6 Mechanism of Linezolid
(Source: https://www.slideshare.net/
saminathankayarohanam/3-antibiotic-proteinsynthesis-inhibitors-51450665)
Route of Administration of Protein Synthesis Inhibitors (Source: M.M. Pathmalal,2018)
| | | |
| --- | --- | --- |
| Antibiotic agent (class) | Route of Administration | Structure |
| Oxytetracycline (tetracyclines) | Oral/bath/injection | |
| Tetracycline (tetracyclines) | Oral/bath/injection | |
| Amoxicillin (aminopenicillins) | Oral | |
| Ampicillin (aminopenicillins) | Oral | |
| Erythromycin (macrolides) | Oral/bath/injection | |
| Sulphonamides (sulphonamides) | Oral | |
Withdrawal Periodfor Safety Concern
Exposure of untargeted animals and the environment to drugs used in aquaculture is inevitable due to the characteristics of the culture systems and the manner of introduction of the drugs.
Moreover, residual drugs in treated fish can affect the people who consume fishand fish products. So that we need to concern the withdrawal period of each drugs prior to use to avoid the risk of residues in fish body.
Box item
The withdrawal period is the time between the last treatment of the fish with the drug and the point at which the fish is processed into a food product. This is determined by the drugs used, the species of fish and the environmental temperature. The duration of the withdrawal period is closely related to the maximum residue limit (MRL) of the drug or its metabolite.
Different countries apply different MRL values and withdrawal periods to achieve safe levels and reduce the risk of residues. The MRL is calculated from several parameters, such as the acceptable daily intake (ADI) and the maximum no-effect level (NOEL). The procedure for determining MRLs from the ADI is much better established for mammals than for fish. The withdrawal period of protein synthesis inhibitors is approximately 8–10 days after the drug administration.
Usually, the withdrawal period for fish considers two tissues, the muscles and the skin. In some cases, separate residue data are needed to establish the withdrawal periods for specific drugs. Temperature is another important variable; a higher temperature is related to higher absorption, distribution, metabolism and excretion (ADME) rates.
Reported antibiotic residues in South Asian countries
According to reported data (Pathmalal.2018), the use of antibiotics in aquaculture contributes equally toresidues in the environment. Studies from Bangladesh, India, Indonesia, and Thailand have reported antibiotic residues in aquaculture products and aquaculture water.
Chloramphenicol was recorded in fish from Bangladesh (~5ng/L) and in shrimps from India (~32ng/L) and Indonesia (~45ng/L). In Thailand, erythromycin and tetracyclines were detected in aquaculture water up to 180 ng/L, whereas fluoroquinolones were detected in higher concentration (avg. 5130 ng/L, max 46100 ng/L) than aquaculture wastewater in Vietnam (avg. 235, max 1130 ng/L). In India, average peak water concentrations in aquaculture farms for Oxytetracycline (OTC) and Erythromycin were recorded as 49 μg/L and 1.6 μg/L respectively while OTC were frequently detected in sediments with concentrations up to 6908 μg/kg.
Risk management options
The most effective means to prevent and control the development and spread of antibacterial resistance is to reduce the use of antibiotics by reducing the need for antibacterial treatments (Moges et al. 2014).
A regulatory framework at the national level is needed for registration, approval, and control of the use of antibacterial agents in all countries in which antibacterial agents are used in aquatic animals.
Production management should include stocking programs and management practices to avoid the introduction of pathogens and to prevent disease outbreaks and should include control measures to be implemented if the disease occurs.
WHO estimated that by 2050, antimicrobial resistance will be responsible for 4.7 million deaths in the Asia region (WHO 2015). Sri Lanka developed the National Strategic Plan (NSP) 2017-2022 with the collaboration of WHO in 2016 (National Strategic Plan-2017-2022). The NSP is developed under five key strategies which are aligned with the strategic objectives of the Global Action Plan. Those strategies are; improve awareness and understanding of antimicrobial resistance through effective communication, strengthen the knowledge and evidence base through surveillance and research, Reduce the incidence of infection through effective sanitation, hygiene and infection prevention measures, optimize the use of antimicrobial medicines in human and animal health and prepare the economic case for sustainable investment and increase investment in new medicines, diagnostic tools, vaccines and other interventions. Further studies that provide clear evidence of the link between inappropriate antibiotic use in aquaculture, and antibiotic residues and antibiotic resistance in bacterial pathogens, are needed to develop the appropriate control strategies.
Conclusion
The protein synthesis inhibitors are one of the branches and most commonly used antibiotics in aquaculture which is often used to treat the parasitic infections and bacterial diseases and avoid the horizontal transmission of infections in cultured fishes. It should be used at recommended dosage to avoid the bioaccumulation of antibiotics or drugs in fishes.
(R. Rajeshkannan is  Junior Research Fellow and V. Alamelu, V. Vijayarahavan and S. Vimaladevi are Assistant Professors in Dr. MGR. Fisheries College and Research Institute, Tamil Nadu. Views expressed are personal.)
(Please share your experience, interesting news articles and case studies at aquapostnews@gmail.com)