The Indian Sundarban possessing an intricate coastline blessed with mangrove vegetation, cluster of delta, with interlinked channels, creeks and estuaries are the treasure of fin and shell-fish biodiversity. The regions in the South-East of Dempier-Hodges line of 1983 and between 20031' and 22030' N Latitude and 88010' and 89051' E, longitude called the Sundarbans occupy a number of estuarine namely Hooghly-Matlah, Saptamukhi, Thakuran, Bidya, Jheela, Muriganga, Karati, Gosaba, Kulti, Bidyadhari, Raimangal,  Ichamati, Haribhanga, Gomar, Haldi and their deltas (Jhingran & Chakraborty, 1990),comprises thirteen blocks in 24 Parganas South District and 6 blocks in 24 Parganas North District and has a total population of 4.1 million as per 2001 census. "Indian Sundarbans" population in many ways faced additional burdens because of poor communications resulting from the innumerable creeks, canals and tidalrivers, which separate the islands from each other and from the mainland.
Indian Sundarbans shares 6.06 percent of the total tribal population of the State. Santhal, Munda and Oraon are some common tribal clan, inhabitant of Sundarbans since 1840. They were brought in to Sundarbans from Chhota-Nagpur Platue area for clearing the forest building the embankments and with years past they become permanent resident of these islands. Dependence of fringe population on natural resources is high, and mainly as fisherfolk, Bowalis (woodcutters/ Golpatta collectors), crab and shell collectors, shrimp fry collectors . ICAR-CIFRI is working for this marginal community under Tribal Sub Plan since 2013. Several initiatives like on field demonstration, skill development programmes were conducted to uplift the socio-economics of the tribal fishers of Sagar Island, Gosaba and Bali Island.
On November 9,2019 , a severe cyclonic storm Bulbul hit in this area causing storm surge, heavy rains, and flash floods. Bulbul made landfall near Sagar Island and some others parts of Sundarbans. Two of our TSP adopted area such as Sagar and Gosaba island of South 24 Parganas were highly affected due to this cyclonic storm. The TSP team  of the institute visited to the above sites on December, 2019 and January, 2020 respectively. The sign of devastations like uprooting of big trees and demolition of kuchha house was observed clearly.
The team CIFRI from 5th to 7th December, 2019 visited at Sagar island (Khanshabad village, Manasha dwip village and Ganga Sagar village) and 9th to 10th January visited at Goshaba island (Rangabellia village) to make a quick on spot assessment for the actual losses of the TSP beneficiaries due to the Bulbul.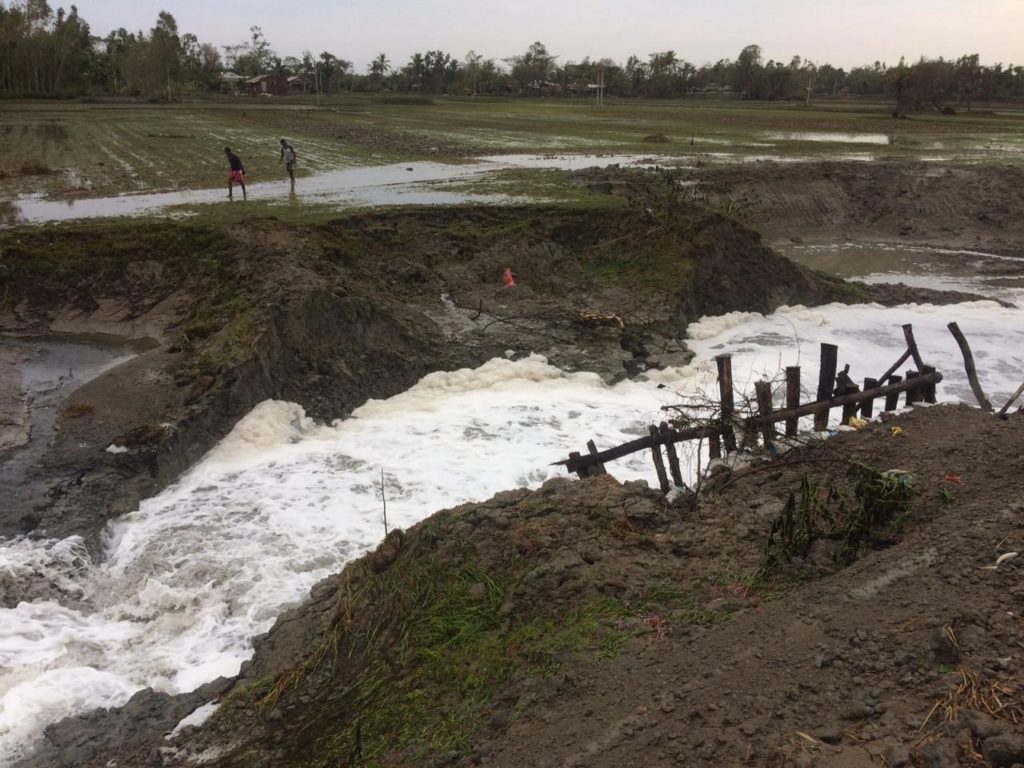 In this assessment the team analyzed the water quality of the beneficiary's aquaculture ponds in random manner at the selected villages. On an average, the water was dark in color with broken parts of trees, transparency was 15 cm, pH was 6.5, DO was 3.2 ppm, free CO2 was 4.0 ppm and in some cases the water carries with pugnacious smell due to high organic load. The team also interacted with the TSP beneficiaries about their losses due to Bulbul, they explained that the previous stocked fishes were died due to the worst and unmanageable condition of the water just after Bulbul. Pre stocked lime and fish feed also damaged by the storm.
Advisory and support from ICAR-CIFRI
The team member advised the beneficiaries for immediate cleaning of the ponds manually by removing of all the fallen parts of trees from the ponds and removing the bottom organic matter as much as possible. Team also recommended the dose of lime application according to their ponds area and demonstrated the procedure of lime application. The quantity of daily feeding to the fishes according to the stocking density into the pond also recommended by the team to the beneficiaries.
Lime was distributed to the beneficiaries of the Sagar island (total 800kg) and the Goshaba island(total 1000 kg). Fish feed also distributed among the beneficiaries of Sagar island (total 10 tons.) for restocking into their ponds. On 12th February, 2020 total 450kgs of IMC fingerlings were distributed among the beneficiaries of Sagar island for restocking into their ponds. On 20th March, 2020 total 125 kgs of IMC fingerlings were distributed among the beneficiaries of the Goshaba island. Before stocking of the fish fingerlings the team re-analyzed the water quality of the ponds in random manner and found that the transparency goes up to 65 cm, pH goes upto 8.2, DO goes upto 8 ppm and free CO2 was nil.
Table:1. Input distributed to the beneficiaries after Bulbul
Sl No
Name of the beneficiaries
Input distributed
1
Khasramkar Village (20 beneficiaries)
Fish Feed-3 tons Fish Seed-112kg Lime-200kg
2
Mansadwip Village (30 beneficiaries)
Fish Feed-3.5 tons Fish Seed-169kg Lime-300kg
3
Ganga Sagar Village (30 beneficiaries)
Fish Feed-3.5 tons Fish Seed-169kg Lime-300kg
Gosaba
1
Rangabelia Village (50 beneficiaries)
Fish Feed-NIL Fish Seed-125kg Lime-1000kg
Ravages by Super cyclone "Amphan" just few months after "Bulbul"
Regular feedback was collected from the beneficiaries and they reported that there was satisfactory fish growth in their water bodies and a good harvest was expected by them. Life and livelihoods of the tribal beneficiaries were almost streamlined.
The super cyclone "Amphan" made its landfall between Sagar Island, Sundarbans, and Kakdwip, West Bengal on 20th May 2020 afternoon. The monstrous cyclone unleashed high-speed winds, heavy rainfall, and a storm surge. Cyclone "Amphan" ravaged the Sundarbans and wreaking manyfold devastation than "Bulbul". "Amphan" mauled telecommunication systems, uprooted trees and electric poles, destroyed thousands of dwellings and ravaged roads, bridges and river embankments across North and south 24 Parganas of West Bengal. A large number of mud houses in the areas of Gosaba, Sagar Island, Kalitala, and Amtoli in Sundarbans were damaged. The jetty on the Buriganga River at Kachuberia (Sagar Island) collapsed. Several river embankments in Sundarbans have been washed away or breached and several areas flooded. In the north 24 Parganas the coastal areas of Sandeskhali, Hingalganj, Hemnagar, and Kalitala were severely damaged. High tidal waves damaged several dams over the Ichamati, Raimangal, and Sahebkhali rivers on the coastal belt close to Sundarbans.
The devastation was so intense at Sagar Island, Kalitala, and Gosaba of Sundarbans that many areas remained inaccessible 48 hours after the cyclone, making it difficult to distribute relief materials. In Gosaba the river embankment at Jotirampurghat, Rangabelia has washed away, inundating vast areas of houses, ponds, and agricultural fields. The TSP beneficiaries of Gosaba and Sagar were very much in despair since cyclone Amphan triggered heavy tidal waves from coastal rivers and saltwater inundated ponds and other water bodies killing freshwater fish varieties like rohu, catla, and mrigal. Now, it has become a great challenge to mainstream the marginalized tribal community of Sundarbans after this colossal catastrophe.
(Please share your experience, interesting news articles and case studies at aquapostnews@gmail.com)